Media
[wpdreams_ajaxsearchlite]
Press Release
June 25th 2019
Chamber Leaders Mastermind Group Formed for Chamber Executives Utilizing Synergy
A group, Chamber Leaders Mastermind has been formed and its official opening has been announced. The group's goal is to get Chamber Executives together, from the US and Canada to help each other.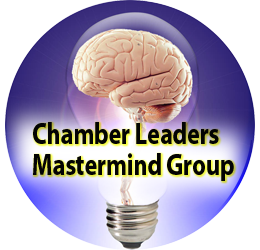 Moncure, United States – June 24, 2019 /PressCable/ —
A group, Chamber Leaders Mastermind has been formed and its official opening has been announced. The group's goal is to get Chamber Executives together, from the US and Canada, to share business insights with each other and in turn, figure out what works best to grow their Local Chamber of Commerce. Chamber Leaders Mastermind operates on the basic principle of synergy. It involves the organized interaction and cooperation of two or more organizations. This will then produce a combined effect that is greater than the sum of their separate parts. This is a golden opportunity to learn from a team of Chamber Executive Directors and Presidents, form the US and Canada, well-immersed in the pertinent issues to offer answers and ideas that will help all involved benefit.
Chamber Leaders Mastermind will hold "Virtual Meetings" twice a month, the 2nd and 4th Tuesday of every month at 1PM EST- one meeting will be an interview with an expert and the second meeting will be a round table discussion with an open mic so everyone can get involved. The team involved is seasoned, having seen robust membership growth and application of a process to engage members. Most importantly, they possess the fervor of being resourceful and are set on setting the pace in their community. They are also are constantly connected and are always in communication with their community and members. Chamber Leaders Mastermind helps members to boost their chambers upward through the meetings and discussions.
There is complete transparency and real-world examples involved in the Chambers Leaders Mastermind. It's all about learning actionable ideas from Chamber Leaders on how to engage and grow Chamber members up to 20% in a month. This mastermind group for Chamber of Commerce Leaders gives new ideas that drive existing Chambers forward and help them set and accomplish milestones via marketing and networking.
There are strategies involved and imparted by Chamber Leaders Mastermind so that members are enabled to experience success which includes having a vision, well-defined expectation, and strategic planning and plan execution ability. Scaling up and the enrichment of personnel and team building with the application of the SYNERGY principle ensures results that work.
The most important factor in Chamber Leaders Mastermind group is how it operates – the Mastermind Group concept was put in the fray by Napoleon Hill in his book Think and Grow Rich. It's simply defined as a group that consists of two or more people who banded together to solve problems.
Barbara Martinez said, "Hi everyone, my name is Barbara Martinez Executive Director of the Goshen Chamber of Commerce in New York, and today I'd like to speak to you about a new group called "Chamber Leaders Mastermind".
Every day as chambers, we look for ways to help promote, support and bring value to our members.
With this new group "Chamber Leaders Mastermind" we'll be able to promote, support and bring value to each other".
Chamber Leaders Mastermind's motive is to enhance Chamber Leaders' personal and professional lives. This will be done by presenting problem-solving proposals and developing a close relationship with every member in the group. Getting to know other Chamber Leaders from all over the US and Canada will be the driving force of the Chamber leaders mastermind. Chamber Leaders Mastermind group functions by SYNERGY and mentorship where forged commitment, energy, and motivation coupled by the earnestness to learn and grow together.
Check out the video
https://www.youtube.com/watch?v=KDlch4Aqe0U
Link to PWA (Progressive Web App)
https://connect.chamberleadersmastermind.com
For more information, visit
https://www.chamberleadersmastermind.com
Source: PressCable
Release ID: 528121